If you live in Canada, the Carfax Canada Report available at carfax.ca may contain additional information than the report obtained from carfax.com.
Is the information provided by Carfax Canada the same as that provided by Carfax.com?
The information is not always the same. Carfax Canada,  provides consumers with Canadian lien and/or security interest information on automobiles from across the country, and guarantees the results. Addtionally Carfax Canada has an additional insurance records which are exclusive to Canadian vehicles. The provincial and territory registrars are connected live to Carfax Canada and hold records for all provinces and territories. Several US-based sites, like CARFAX.com, do not report Canadian automobile lien information.
What Makes a Carfax Canada Report Unique?
Carfax Canada is the only service that provides Canadian lien and/or security interest information on vehicles from across the country. Carfax Canada is the only company that provides vehicle history reports in both English and French.
Carfax Canada is electronically linked to its data sources in real-time. This implies that the data is always up to date and never out of date. Other services buy data dumps on a regular basis, which means that recent vital data may be missing from their reports.
Carfax Canada is the sole service that offers consumers information on Canadian insurance and accident claims. Carfax Canada delivers data from Canada's private insurance business as well as the public insurer in Saskatchewan via its live connectivity to comprehensive databases that service the Canadian insurance market. Carfax Canada also provides a product called "Verified BC" that searches the Insurance Corporation of British Columbia's database in real time (ICBC).
In addition to the information listed above, Carfax Canada reports include data from Experian Automotive, one of the leading U.S.-based vehicle history services. All Carfax Canada reports include the data you'd obtain from other prominent U.S.-based vehicle history services, including a Lemon Search, thanks to their live connection to Experian's 2 billion+ record database.
Is Carfax Canada the Best Vehicle History report for Canadians?
Yes, Carfax Canada provides Canadian consumers with the most comprehensive automobile history report available and provides information that other reports may not contain. The fact that the vehicle comes with a Carfax Canada report allows for increased buyer confidence.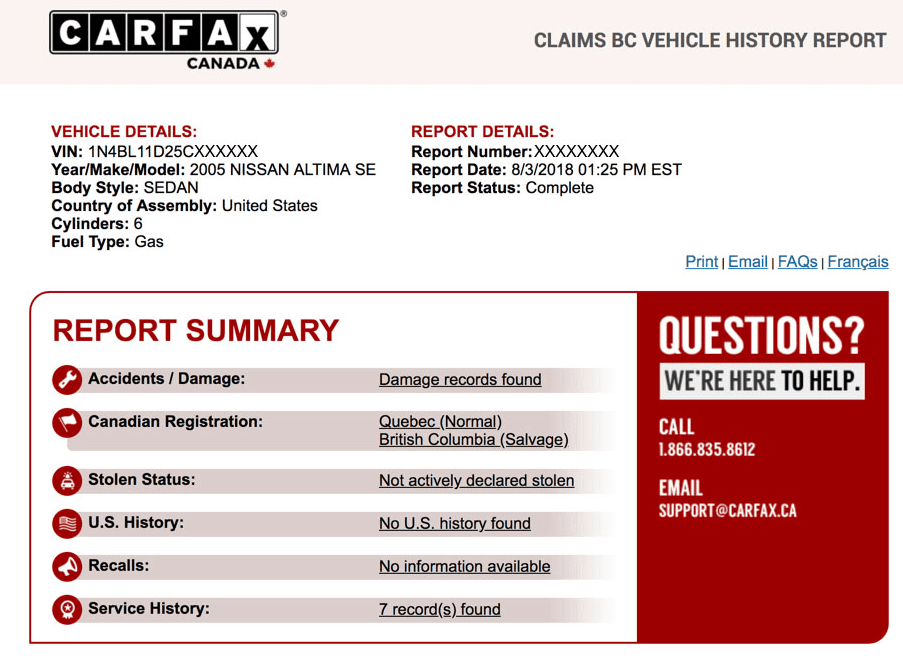 What's the difference between CARFAX.COM  VS  CARFAX.CA ?
If you order from carfax.com you will be purchasing the Carfax US reports which are very similar to the Canadian versions although the layout is different and they lack some information that is exclusive to Canada. In the same way, if you order from carfax.ca you will be receiving the Canadian carfax report which will have more relevant data for Canadian vehicles. It is best to buy the report according to the Country where the vehicle spent most of its time however if you buy either report most if not all of the data will be identical with some exceptions.
What's the difference between Carproof  &  Carfax Canada?
There is essentially no difference between Carproof and Carfax Canada besides the name.  Carproof was Canada's best source of automotive data in 2015 when it merged with Carfax.com, which was also the industry leader in the United States. HIS Inc. has owned both companies since late 2015. CARPROOF Corporation underwent a complete rebranding in November 2018 and is now known as CARFAX Canada.
With the merger and rebranding of Carproof into CARFAX Canada, the company promises to provide the same robust history and valuation information that dealers and consumers have come to expect. The acquisition of Carproof by CARFAX was a marketing move to capitalize on the strong brand and advertising while also improving and collaborating on products and services for Canadians in the future, building on their extensive history of assisting people in making informed decisions about used cars.