CONTENTS:
➡️ Free Carfax Overview ➡️ Free carfax report when Buying a car ➡️ Free Carfax Report for your own car when selling ➡️ More Absolutely Free Car History Report Methods ➡️ Buy Cheap Carfax  ➡️ What is VIN decoding?  ➡️ Free Carfax Alternatives  ➡️ Conclusion
Free carfax report vin check
How to get a Free Carfax
Nowadays there are more and more ways to get a carfax report vin check for free. Even if you own the vehicle already, you can still get a free VIN check easily in order to find out the vehicle history before you decide to buy or sell it.  If you are planning to buy a new car, then there are even more options available for you to get a free report. In this article, we list all the ways that YOU as a buyer or seller can get an Absolutely Free Car History Report or carfax report for free online in 2023 with only the VIN number and also the besy Free Carfax alternatives for Comprehensive Vin Reports.
Free Carfax Report when Buying a Car
8 EASY Steps to get a FREE CARFAX Report When Buying a used Car
Click "Find a Used Car" on the homepage of Carfax.com.
Enter your zip code, then the make and model you want.
Following that, they will search for the vehicles in your area that meet that description.
From this list, select the vehicle you wish to view, all the vehicles show here come with a FREE CARFAX report.
Navigate to a new tab and scroll all the way to the bottom of the page until you see a CARFAX Snapshot box.
The Carfax report you see here will show you some information quickly, which may be all you need.
Below that box, click the blue View FREE CARFAX Report button to view the full report.
The entire report will now be displayed in another tab and it is absolutely free to view!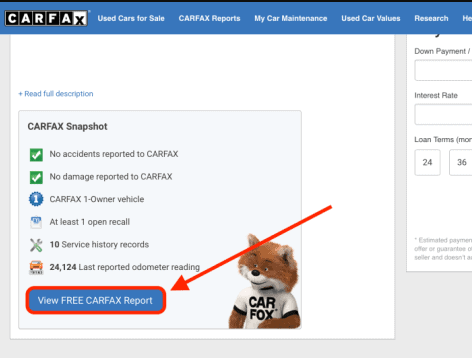 Screenshot taken from Carfax.com/cars-for-sale
free carfax when Selling Your Car
4 EASY Steps to get a FREE CARFAX Report when selling a Vehicle
Follow these steps to get a Free Carfax for your vehicle that you already own:
Go to any used or new car dealership.
Tell the salesman you are considering selling your vehicle and want to know the trade-in value.
The salesman will run the report.
Ask the salesman for a copy of the report for your reference
More Absolutely Free Car History Report Methods

5 other ways to get an Absolutely Free Car History Report:
1. Buying from a Certified Used Car Dealership
When shopping for a car at an authorized used car dealership you may find that they have a recent carfax already for your vehicle. Free CARFAX Reports are available at many car dealerships in your area. Just ask the dealer when you visit their showroom.
2. Shop online Listings of used cars at Cars.com
Free CarFax report comes with thousands of new and used cars on Cars.com. Click the CarFax report link under the vehicle information heading. If you ordered a report from CarFax through their website, you'd find the same information. You can inquire about free car reports at dealerships if they don't list them on their website.
3. Purchase from a Private seller
Request a CarFax report when buying a private used car sale so you have as much information on the vehicle as you can on its history. You can tell the seller about cheapcarfaxreport.net and have them buy the report for you.
4. Sign up for a Carfax Car Care Account
Carfax.com car care program is a service where you will get an alert for any vehicle history change or upcoming maintenance alerts.  If you are subscribed to this service on the official carfax website then you can have the most recent carfax report for free directly from carfax.com.
5. Other Options
There are many free carfax report online alternatives that are almost just as good. Keep reading as we list these alternative carfax services in the next section below, such as The National Insurance Crime Bureau (NICB), VehicleHistory.com, and iSeeCars.com. 
Consumers can check whether Insurance companies have reported a vehicle as totaled or stolen using free services online.   Keep in mind that official CarFax reports are more detailed.
Here are some more places you can get an Aboslutely FREE CARFAX REPORT
There are several services you can utilize to get free Car Fax "like" reports or simply called VIN checks before purchasing used cars.
Checking the VIN is especially important when you buy a car on Craigslist or eBay and there is no dealership nearby at which you can get free access to paid sites such as CARFAX, AutoCheck, and autoDNA.com.
iSeeCars.com, National Insurance Crime Bureau, and VehicleHistory.com all offer free vehicle history reports.
Just enter the VIN digits and these sites will search for the car and provide information about it.
Here's Where to Get  CARFAX Alternative VIN Checks for Free!
If you are buying a used car, you can get a totally free VIN check through a variety of services. Many people prefer carfax reports for good reason, but there are some totally free carfax alternatives  and some paid alternatives that don't totally such.   Check our article about the best carfax paid  alternatives.
We do however recommend that you buy the original carfax report, as the free options may be missing some crucial information.  We can recommend, if you have a big list of vehicles to check out and don't want to buy a carfax report for all of them, then use the free hack options.  Once you have decided on the car you want to buy then get a paid carfax report for your peace of mind. Of course, you can also get a cheap carfax report at a discounted price when using our website.
If you're shopping for a car online, such as through Craigslist or eBay, where there's no dealership, a VIN inspection is especially important.
The National Insurance Crime Bureau (NICB), VehicleHistory.com, and iSeeCars.com offer free vehicle history reports.
Simply put your car's VIN into these sites and they'll look it up for you and provide you with the information you need on the car.
There are a lot of ways to find out information about a car with its VIN number. You can even do this with your own car if you want to know its history before you owned it.
Vehicle identification numbers usually tell you whether the car has been registered in a particular state as well as if anyone has filed an insurance claim on the car as a result of an accident.
#1  Vehicle History Reports from  VehicleHistory.com

Vehicle History offers free VIN lookups that include other data, such as fuel economy or cost to own analysis, in addition to VIN data.

A free VIN lookup includes other things like:

Selling history
Current recall info
The expiration date of manufacturer warranties.
When should you buy a specific make and model?

To get your free VIN report through VehicleHistory, enter your car's VIN number under the "Research" tab on the homepage. Then, click "View Report."

#2  National Insurance Crime Bureau (VinCheck.info)

You can check if your vehicle's VIN has previously been: towed, impounded, stolen, or used in an accident on the National Insurance Crime Bureau website.

It was reported stolen or lost
Salvaged
The car was declared totaled as a result of an accident.

The VIN check is the easiest free service available so far, and five searches are allowed per day on each IP address.

For your report, enter the VIN number of your vehicle on the website under "Look Up a VIN." You have to agree to the terms, and conditions and reassure yourself you aren't a machine before you can click "Search VIN."

#3  iSeeCars.com

Another robust free VIN check service that iSeeCars offers is a report that includes 200 data points, such as:

Price analysis
Price history
Depreciation projections
There are certain times of the year when it is best to buy and sell.

iSeeCars offers free VIN checks for the cars you enter on their website. Enter your VIN# there and click "Analyze."

Buy Cheap Carfax Report Instead
You can buy a Cheap Carfax Report directly on our website by clicking the image below
Use Coupon code "cheapcarfax" to get it for only $7.99 using this link:  https://cheapcarfaxreport.net/buy/carfax/
Or Try the excellent reports found at VINCHECKUP
Vehicle identification numbers (VINs) detect whether a vehicle has been registered in another state and identify its type of title.
VIN decoding: How to do it?
The VIN (vehicle identification number) length can be either 17 characters or 11 characters. All motor vehicles have an exclusive VIN.
Despite VINs seeming meaningless, there are some key factors needed to decode them.
Your VIN carries the country of origin as its first character.
A second and third character tells you the division and manufacturer.
The fourth through eighth characters indicate the type of vehicle, its safety, and safety features.
Nine characters represent the manufacturer's security code.
The 10th character on the serial number will tell us the model year of our vehicle.
The 11th character is the assembly plant identifier.
Those characters correspond to the serial number of the plant or vehicle.
You are likely looking for a free VIN report because you are looking to purchase a used car. Buying used is an excellent way to save money. It comes with its own set of pitfalls, though.
Before you buy a used car, check out a free vehicle history report.
Before you purchase the vehicle, have an auto mechanic inspect it.
A new VIN check could reveal no accidents and the car's history is clean, even though the car has actually had major issues with it in the past.
The free information on those sites may not provide all the information necessary for your purchase, and it may not be 100% accurate.
Whether the car was listed by a private proprietor or a licensed dealer, there is no legal requirement for the seller to be truthful about its condition. Worse yet, used cars are being sold as-is by private traders and dealers alike without a written guarantee.
The seller should give you written assurances that you will receive your deposit back if the car does not pass inspection if you leave a deposit.
The most important thing is to hire a qualified/ technician to perform a thorough vehicle analysis before buying a car!
Summary:
The websites mentioned here offer free VIN checks for those who desire to buy a used vehicle. The VIN may be subject to vehicle inspection by all three at the same time.
Data on the free VIN reports you receive should be the same across providers. You should pause before you purchase any vehicle if no match appears. That's a possible sign that the vehicle's VIN has been falsified, so it's best to make sure.
Since buying a used car is a big financial purchase, you should always opt to get a paid vehicle history report such as Carfax. Carfax is the leader in the industry however AutoCheck comes in as a close second in terms of availability of information and reliability.

RELATED POST:
https://cheapcarfaxreport.net/free-carfax-hack/